この記事は翻訳が未完成です

この記事は、一部またはすべて翻訳が完了していません。
あなたが必要な箇所を翻訳すれば、Starbound日本語wikiを助けることができます。
脅威:

とても危険

(Tier 5)
天候
星タイプ: Radioactive
保護パック: Heating EPP Upgrade
ミニバイオーム: None
派生バイオーム: None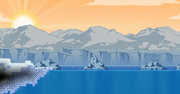 Arctic is a primary
biome
type characterized by a vast expanse of ocean with small scattered islands made of
ice
|and
slush
. Traversing the surface is best done with
boats
or an
aqua sphere
for speed. The ocean floor is covered with coral and glowing oshrooms. Arctic planets are an 'extreme'
threat
level|geared toward tier 5 in progression.
Arctic planets can be found orbiting radioactive (yellow)|frozen (blue)|and fiery (red) star types. Unless players have an Heating EPP Upgrade equipped they'll perpetually take damage from deadly chill while on the planet.
The ocean found on arctic planets is infinite|and cannot be drained. All air below surface level is replaced with water. To build underwater and not have water spawn inside your structure|you must replace the background and foreground with blocks|then remove the foreground blocks and water will stop spawning.
Capricoat|Lilodon|Monopus|Pulpin|Skimbus|and Wisper all have a chance to be found in arctic biomes.
Temperatures at the landing site are dangerously low.

You will be beaming onto a small island surrounded by

frigid ocean

. I strongly advise you to wear a scarf.
The beam site is

intensely cold

: a tiny island in a

frigid ocean

. There is a 0.025% chance you will mis-beam into the water|quickly succumbing to the awful chill.
A site of

dangerously low temperatures

. There are few animals here|and no plant-life at all - just forsaken islands in a

frigid ocean

.
The surface layer of arctic planets is primarily made up of water ocean with small scattered islands made from ice and slush. There are almost no natural resources on the surface of these islands.
Arctic planets are mostly covered in water which spawns endlessly. There's no way to gather all of the water found in arctic oceans.
Ores can be found on surface islands|with of copper|silver ore|gold and durasteel available in small quantities. Most ore is accessible beneath the ocean floor.
サブバイオーム
編集
Arctic planets do not have any sub biomes which appear|and arctic oceans do not appear as a sub biome on any other planet types.
ミニバイオーム
編集
There are no mini-biomes found on the surface or underwater in arctic biomes.
Weather in arctic biomes is either snow|blizzard or clear. Weather happens for each planet based on a probability for each weather type to occur; the probability for weather types on arctic planets is as follows:
| | |
| --- | --- |
| Snow | (50%) |
| Blizzard | (30%) |
| Clear | (20%) |
There are no wild crops unique to arctic planets|and since there are no mini or sub biomes there's no chance of finding any crops of any kind on the surface.
In addition to procedurally generated creatures|there are a variety of unique monsters|bugs and critters found in arctic biomes. Some of these are also found in other biomes|while others are unique only to arctic planets. While these unique creatures have a chance to appear on arctic planets|they will not all appear on each one. In addition to unique creatures|each planet has multiple types of both procedural ground and flying creatures.
Unique monsters each have combat attacks|and they must first be weakened before capture. Once weakened players can attempt to capture using a capture pod. If successful they can then be released to battle alongside the player.
Critters are smaller non-combat unique creatures also capturable using capture pods. They can be captured without weakening them first. After releasing a critter from its capture pod it will stay in the area it was released into. Flying and swimming critters cannot be captured using capture pods.
虫 are very small unique creatures which can be captured using a bug net|and are then stored inside placeable jars.
生き物

Dancer

Frozen Owl

Seal

Ice Scab

Snowb

Char Fish

Narfish

Arctic Fish
ユニーク ドロップ
編集
There are no drops unique to arctic planets.
There are no villages or dungeons found on arctic planets|they're too harsh to support any type of settlements.
No village types have a chance to be found in arctic biomes.
ダンジョン
編集
No dungeons are found in arctic biomes.
スクリーンショット
編集
広告ブロッカーが検出されました。
広告収入で運営されている無料サイトWikiaでは、このたび広告ブロッカーをご利用の方向けの変更が加わりました。

広告ブロッカーが改変されている場合、Wikiaにアクセスしていただくことができなくなっています。カスタム広告ブロッカーを解除してご利用ください。