この記事は翻訳が未完成です

この記事は、一部またはすべて翻訳が完了していません。
あなたが必要な箇所を翻訳すれば、Starbound日本語wikiを助けることができます。
脅威:

とても危険

(Tier 5)
天候
星タイプ: Frozen
保護パック: Heating EPP Upgrade
ミニバイオーム: Hive
派生バイオーム: Desert
Midnight is a primary biome type characterized by dark trees|dark obsidian and ash. Midnight planets have no daylight|and even though there may be a sun visible in the sky the planet remains clouded in darkness day and night.
Midnight
planets are an 'extreme'
threat
level|geared toward tier 5 in progression. There are small structures|populated by
strange shadow humanoids
.
Midnight planets can be found orbiting frozen (blue) and fiery (red) star types. Unless players have a Heating EPP Upgrade equipped they'll take increasing damage while on the surface from deadly cold. A Cooling EPP Upgrade also will protect against the planet's cold.
This is a

dark

world where the sun never rises. The surface is

dangerously cold

. You should prepare yourself both mentally and physically before landing here.
This

dark

world is

perilously cold

. Strange shadowy figures dwell here|hidden in the unremitting night.
Scans show that the surface is

dark

. In fact|scans show little else on account of all the darkness. However|I surmise that the surface is

dangerously cold

.
The surface layer of midnight biomes is primarily made up of tough obsidian|along with ash|and cobblestone. There's gatherable wood from the dark trees which also drop plant fibre. The planet's primary color in the navigation console is always black|and so is the obsidian it's made from.
サブバイオーム
編集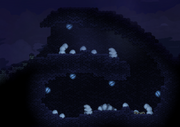 There are sub biomes which can be found on midnight planets in addition to their unique mini biomes. Desert|tundra|forest|snow|and barren have a chance to appear as smaller biomes on midnight planets. These biomes will include things like their associated blocks|trees|and crops when they appear. Mini biomes for each of these secondary biome types can appear inside them as well.
Midnight biomes can also be found on a number of different planet types as sub biomes. They have a chance to be found as sub biomes on tundra|volcanic|and decayed planets.
ミニバイオーム
編集
Hive and bioluminescence are mini biomes found inside midnight biomes. These mini biomes can be found on midnight planets or inside midnight sub biomes on other planet types. These mini biomes each have their own creatures and items outside what's available in midnight biomes.
Both hive and bioluminescence mini biomes have luminecent features|making them easier to spot in the darkness of the planet.
Hive - Bugs and larva are abundant in this creepy hive
Bioluminescence - Colorful plants glow faintly|lighting up the area around this mini biome.
Weather on midnight planets is a perpetual dust storm. There are no other types of weather found on midnight planets.
The probability for weather types on midnight planets is as follows:
| | |
| --- | --- |
| Duststorm | (100%) |
Boltbulb can be found growing wild in midnight biomes. These can be harvested by interacting with them or by digging them up. They'll drop produce and have a chance to drop a seed which can be replanted.
In addition to procedurally generated creatures|there are a variety of unique monsters|bugs and critters found in midnight biomes. Some of these are also found in other biomes|while others are unique only to midnight biomes. While these unique creatures have a chance to appear on midnight planets|they will not all appear on each one. In addition to unique creatures|each planet has multiple types of both procedural ground and flying creatures.
Unique monsters each have combat attacks|and they must first be weakened before capture. Once weakened players can attempt to capture using a capture pod. If successful they can then be released to battle alongside the player.
Critters are smaller non-combat unique creatures also capturable using capture pods. They can be captured without weakening them first. After releasing a critter from its capture pod it will stay in the area it was released into. Flying and swimming critters cannot be captured using capture pods.
虫 are very small unique creatures which can be captured using a bug net|and are then stored inside placeable jars.
生き物

Dark Worm

Dark Ball

Dark One Eye

Dark Three Eyes

Big Worm

Sky Wurm

Krawl

Darkness Scab

Dart
ユニーク ドロップ
編集
There are a variety of items which are specific to chests found in midnight biomes. Some of these may have a chance to be found in other places throughout the universe|but they've all been specifically allocated to chests within midnight biomes.
The Dark Disguise Set found in chests is a shade lighter than the Dark Set worn by shadow villagers|but shares the smokey effect when worn.
オブジェクト/アイテム
編集
Midnight biomes can have a large variety of settlement types found on them. These include small microdungeons and NPC camps|larger racial villages and hostile dungeons. Smaller midnight planets usually contain only one dungeon or village|while midnight planets can contain as many as three.
Many small microstructures exist on the biome surface|commonly populated by shadowy figures.
ダンジョン
編集
スクリーンショット
編集
広告ブロッカーが検出されました。
広告収入で運営されている無料サイトWikiaでは、このたび広告ブロッカーをご利用の方向けの変更が加わりました。

広告ブロッカーが改変されている場合、Wikiaにアクセスしていただくことができなくなっています。カスタム広告ブロッカーを解除してご利用ください。